Why You Should Consider Comparing Business Electricity Prices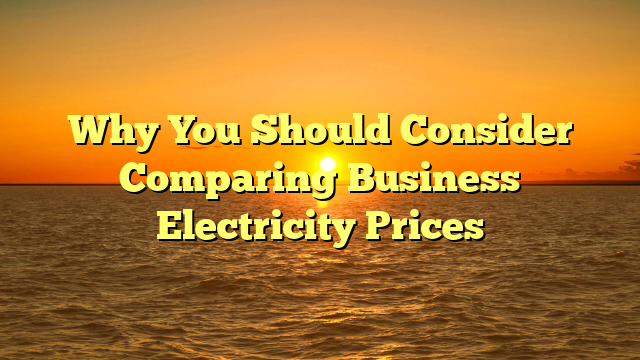 There are a myriad of options available when selecting an energy provider that will support your business. You can pick between Fixed rates, Time of Use rate or a Unit rate. Comparing all options is the best way to maximize the value of your business electricity contract. You can compare multiple quotes and choose the one that fits your needs best.
Fixed rate
A fixed rate tariff for business electricity is an excellent option for those who run a small business. The benefit of this type of tariff is that you can end your contract at any time, without having to pay a penalty. Additionally, as per the rules of Ofgem they must inform customers 42-49 calendar days prior to changing their rates that gives you enough time to compare prices.
Fixed rate plans are dependent on the average price of electricity over a given time period. This is crucial since you'll know the amount of energy you'll require during specific times of the year. A fixed rate plan also provides more predictability – a good thing for a small-sized business which must set their budget.
Time of use
You will need to choose the appropriate time of use rate if you are a frequent user of electric. Time-of-use rates can vary by season, on weekdays versus weekends, or even over multiple periods in a single day. For example, Pacific Gas & Electric's summer time-of-use rates include three different time periods: an off-peak time from 11 pm until 2 pm, a partial peak time between 2 pm and 4 pm, and an on-peak period between 4 pm and 11 pm.
When comparing the prices for electricity for businesses it is essential to consider the time of use. It is also important to consider the kind of meter you have within your business. Some companies use half-hourly meters while others utilize multi-site meters. Your costs will also be affected by the type of meter that you choose to use.
Variable rate
When choosing an electricity service for your company, you're often faced with two choices either fixed rate plans or variable rate plans. It's a gamble but knowledge is power, so be sure to research each plan and the pros and disadvantages of each plan. The right plan can help you save money, control bills, and be happy with your electricity supplier.
Although electricity prices can be expensive for businesses, they can cut down on their expenses through the use of energy-efficient appliances and equipment. The energy use of your business is the primary factor that determines the amount you'll be charged. The demand curve is used by suppliers to determine their prices, which means that certain companies will be charged more than others.
Unit rate
When comparing business electricity prices make sure you look at the unit rate as well as the standing charge. The unit rate determines how much you pay per Kilowatt-hour. The cheaper the unit rate, the lower your bill will be. The amount you pay for standing charges is based on how many days a business uses electricity. The difference between the two could be significant.
The cost of a kWh varies depending on the provider. It is essential to understand the difference between the most and most affordable rates. Use the table below to compare business electricity quotes. These prices are based on the BEIS Q1 2022 data. These figures are a rough estimate of what you could expect to pay each month. In the end, however you should take a look at the current unit rate against your actual usage to find the most affordable price.
Standing charge

The business electricity providers differ in their pricing, but many of them offer no-standing charges. A standing charge is an amount that is added to your monthly bill. Energy providers make use of standing charges to pay for the cost of taking meter readings and supplying electricity to your premises. The amount you pay per day can vary between 15p and PS20.
When comparing prices for business electricity be sure to look at both standing charge and the unit rate. The unit rate is how you pay for the electricity that you use. The standing charge is the amount you pay to get access to the electricity. While the majority of comparisons are based on the cost per unit however, the difference between standing charges and the actual cost can make a huge difference in the amount you'll end paying.